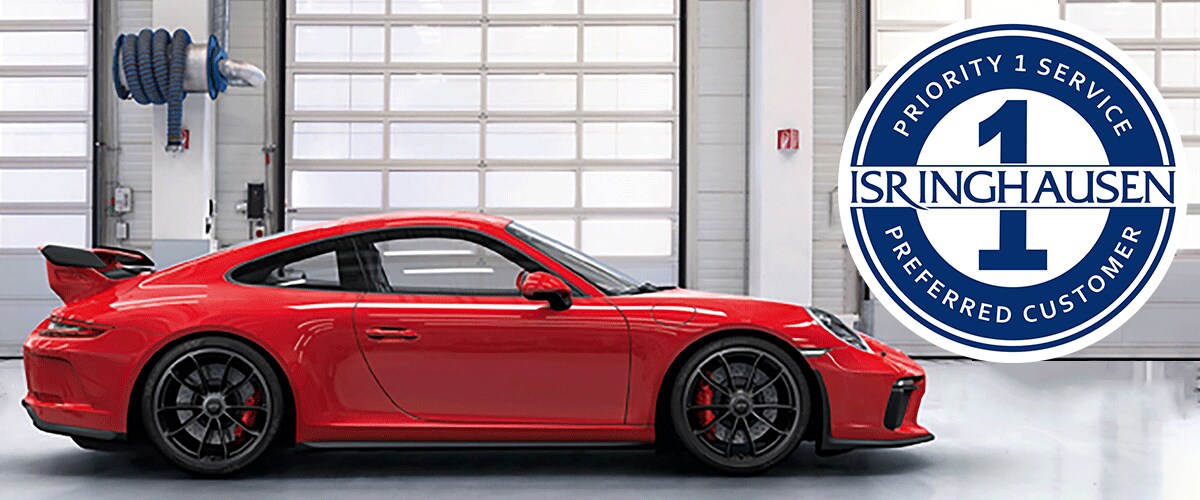 We want you to feel at home. While at Isringhausen, enjoy amenities like
free Wi-Fi, Starbucks coffee and a comfortable lounge area.
 At Isringhausen, all of our technicians are certified by Porsche and receive ongoing factory-authorized training that is only offered to technicians at authorized Porsche dealerships. Our Porsche technicians have an average tenure at Isringhausen of 13 years.
 Isringhausen maintains a large inventory of factory-authorized parts that are only available to Porsche dealerships. This allows us to fix your vehicle with the right parts as quickly as possible.
 If scheduled ahead of time, a complimentary Porsche loaner vehicle can be made available while your car is being serviced.*
 Don't have time to drop your car off? We will schedule a time to pick up your vehicle from your house or workplace, and leave you with a loaner (service available within 100 miles of dealership).*
 We will keep you informed in terms of your vehicle's status including parts delivery or any delays.
 We will clearly explain and help you understand all service requirements and changes.
 At the conclusion of your service visit, your car will be returned to you washed and vacuumed.
 Enjoy a complimentary car wash with continental breakfast every Saturday morning from 9am-1pm for as long as you own your car.*
The Isringhausen Priority One Service program is our commitment to ensure you get
honest, accurate, and prompt service for your vehicle.
*This benefit of Isringhausen's Priority One Service program is only available for customers who purchased their vehicle from Isringhausen.