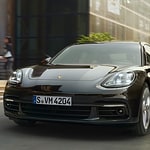 While the Porsche name is most closely associated with performance sports cars, they have ventured out and expanded their vehicle lineup. This includes a full-sized luxury sedan for those who wish to navigate the streets of Springfield, IL in style and elegance. The Porsche Panamera is a luxury sedan with many features to appreciate and enjoy.
Porsche engines have long been known for their high degree of performance and power and this is no different from the engine powering the new Panamera. The engine in the baseline model of the Panamera can propel this full-size sedan from 0-60 in 5.4 seconds while producing 330 horsepower and a top speed of 164 MPH.
The interior of the new Porsche Panamera is able to seamlessly combine the sporty you desire when in a racing state of mind while also delivering the comfort that is a must on long trips. The cabin is highly customizable with options for leather or two-tone interior schemes, a variety of seat options, and a choice of materials that include carbon, aluminum and fine woods.