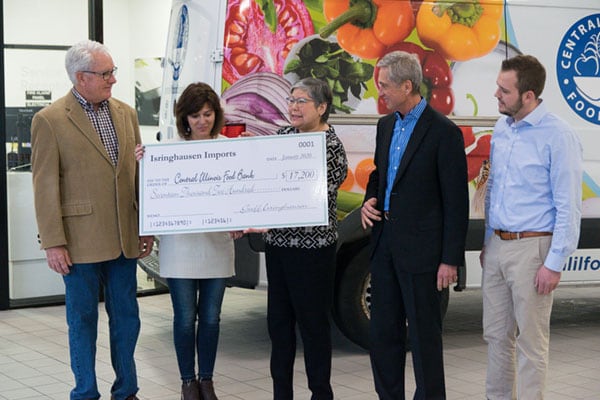 Above: Geoff and Joe Isringhausen present a check to team members from the Central Illinois Foodbank. They include: Pam Molitoris, Executive Director; Jane Kiel, Finance Director; and Robbie Robert, Board Member.
Isringhausen Imports recently concluded a season of giving by making a cash donation to Central Illinois Foodbank. We pledged to give $100 for every vehicle sold in December plus money generously donated by Isringhausen employees and customers. We're pleased to report that strong December sales made the check larger than initially expected ($17,200)!
"Our customers and employees really stepped up this year," said Geoff Isringhausen. "We're pleased to help fight hunger right here in the Springfield area. When people's immediate needs are met, they can focus on longer-term goals like education, family and career opportunities. This, in turn, builds a stronger community for all of us."
Central Illinois Foodbank recently earned its tenth four-star rating for financial health and transparency. Only 1% of the thousands of charities rated by Charity Navigator have earned this recognition. Isringhausen has a history of supporting the food bank, having previously donated a commercial van used to deliver fresh produce, meat and dairy products to local schools and other organizations.
Thanks to our friends, customers and employees for allowing us to give back to the local community.