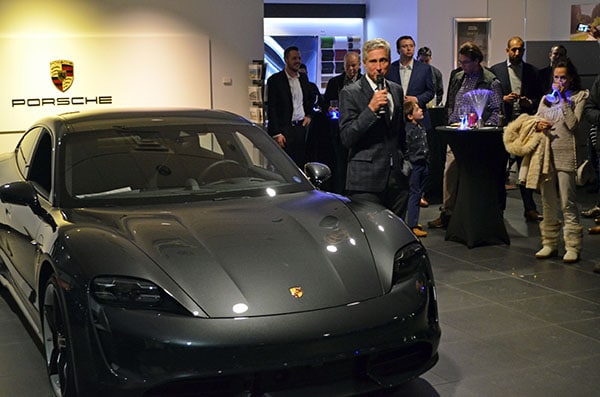 Above: Geoff Isringhausen presents the Porsche Taycan to special guests.

Taycan, the first fully electric sports car from Porsche, has arrived at Isringhausen. The car was unveiled mid-February at a special after-hours event for select customers.
The first models in the new series are the Taycan Turbo S and Taycan Turbo. They are at the cutting edge of Porsche E-Performance and are among the most powerful production models that the sports car manufacturer currently has in its product range. Less powerful variants of these all-wheel drive vehicles will follow this year.
The Taycan Turbo S accelerates from zero to 60 m/h in 2.8 seconds, while the Taycan Turbo completes this sprint in 3.2 seconds. The Turbo S has a range of up to 256 miles, and the Turbo a range of up to 279 miles. The top speed of both all-wheel-drive models is 161 m/h.
With its clean, puristic design, the Taycan signals the beginning of a new era. At the same time, it retains the unmistakable Porsche design DNA. From the front it looks particularly wide and flat with highly contoured wings. The silhouette is shaped by the sporty roofline sloping downward to the rear. The highly sculpted side sections are also characteristic.
Porsche Taycan is available for test drive by appointment. Call 877-364-6090 for more information.