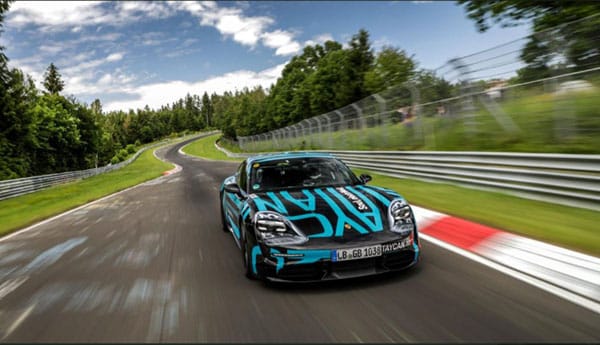 The forthcoming Porsche Taycan has set a new record lap time for four-door, all-electric sports cars at the famous Nürburgring-Nordschleife test track (aka the "Green Hell"): seven minutes and 42 seconds.
"The Taycan is also suitable for race tracks and it convincingly proved that here on the world's most challenging circuit," test driver Lars Kern explains. "Again and again, I am impressed at how stable the all-electric sports car handles in high-speed sections and how neutrally it accelerates from tight sections."
A whole range of technical features guarantees an impressive race track performance of the Taycan:
The Taycan has two exceptionally efficient electric motors on the front and rear axles and therefore features all-wheel drive. The all-wheel drive and traction control systems operate significantly faster than conventional systems. For example, if one wheel has more slip, the electric motors regulate it within a fraction of a second.

The integrated Porsche 4D-Chassis Control analyses and synchronizes all chassis systems in real time. The innovative chassis systems include adaptive air suspension with three-chamber technology including electronic damper control PASM (Porsche Active Suspension Management), as well as the Porsche Dynamic Chassis Control Sport (PDCC Sport) electromechanical roll stabilization system, including Porsche Torque Vectoring Plus (PTV Plus). The record-breaking car also featured rear-axle steering and 21-inch tires.

The Taycan is the first production vehicle with a system voltage of 800 volts rather than the normal 400 volts for electric cars. The benefits include high levels of consistent performance.

The driving modes profile of the new Taycan offers special settings to make full use of the all-electric drive's properties. In "Sport Plus" mode, driver requests are implemented in an extremely dynamic way. As a result, the battery's cooling and heating strategy has been designed for maximum performance. At the same time, the cooling air flaps are opened, the rear spoiler is extended early on for minimal lift, while the chassis set-up becomes optimized for maximum race track performance, and the suspension permanently set in the lowest position.
The 2020 Taycan will arrive at Isringhausen Porsche later this year.