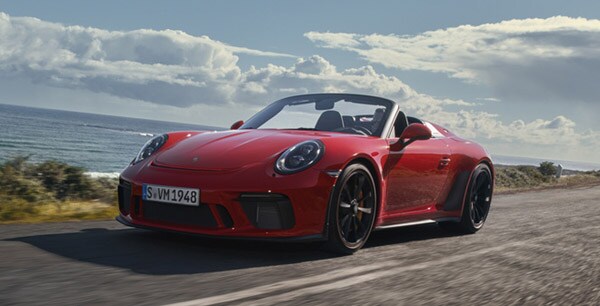 Last year, Porsche celebrated its 70th anniversary of building sports cars by showing two 911 Speedster Concept vehicles to the public. Soon, a production version will be headed to American shores.
Powered by a naturally-aspirated 4.0 liter flat-six engine capable of up to 9,000 rpm that is also used in the current 911 GT3 and 911 GT3 RS models, the 2019 911 Speedster develops 502 horsepower and 346 lb-ft of torque, accompanied by a highly emotional, racing inspired soundtrack. For the 911 Speedster, this race-bred powerplant has been enhanced with individual throttle bodies that make the throttle response even sharper, just like in the 911 GT3 R race car. To deliver a particularly engaging driving experience highly desired by purists, the 911 Speedster is available exclusively with a GT Sport six-speed manual transmission. 0 to 60 miles per hour happens in just 3.8 seconds, and the top track speed is 192 miles per hour.
The 2019 911 Speedster is the first such model developed by the Porsche Motorsport department, but it is still immediately recognizable as a Speedster. The low-cut front windshield and side windows as well as the manually operated lightweight fabric top are characteristic for a Speedster model and make the car stand out immediately. The two streamliners atop the rear decklid made from carbon fiber are another design highlight rooted in the model's history.
The history of Porsche Speedster models began in the United States. Speedster variants of sports car models, which combine open-top driving pleasure with incredibly distinctive driving dynamics, have been part of the Porsche company history since 1952. By 2010, eight different production and special models bearing the "Speedster" name had been created.
The 2019 911 Speedster is planned to be available for order on May 7, 2019 and is expected to reach U.S. dealers in late 2019. It will be limited to 1,948 units worldwide.