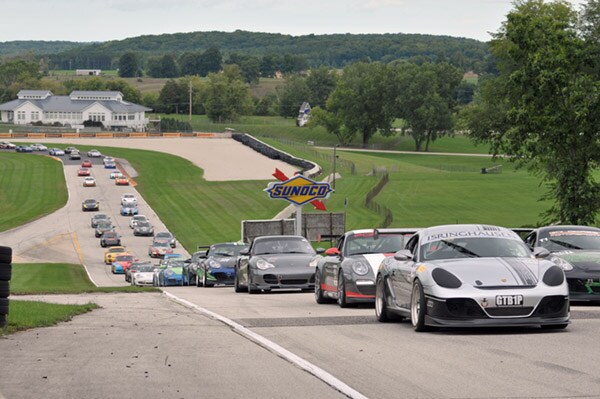 Isringhausen Motorsports was proud to participate in Rennsport Reunion VI, the world's largest gathering of Porsche cars and enthusiasts. The event took place September 27-30 at WeatherTech Raceway Laguna Seca near Monterey, California.
Overall, there were 350 Porsche race cars competing in seven different classes, spanning from the 356 through the 917 to modern 911 GT cars, and many more. Upwards of 60,000 spectators, most of them traveling in their own Porsche cars, were there to witness the action.
In addition to the racing action, Porsche created a special "Champions Garage" in pit row to display 11 victorious Porsche race cars, including:
1998 GT1
1960 Porsche 718 RS Spyder – this early predecessor of the modern Boxster won the first major endurance race for Porsche in 1960 at the 12 Hours of Sebring.
Porsche 911 Carrera 3.2 4x4 Paris-Dakar (953) – a special off-road version of the Porsche 911 that competed in a 14,000 kilometer race through the Sahara Desert.
2008 Porsche RS Spyder – Over a three-year period, the LMP2 class racer won three manufacturer championships in the American Le Mans Series, most notably winning the 2008 12 Hours of Sebring.
Other displays included more than 1,300 cars in the Porsche Club of America corrals and 70 significant race cars in the Porsche Heritage tent.